The term "alpha" is pointless. It serves no purpose. What does it mean? The whole point of any term is to add clarity to something and "alpha" absolutely does not do that. Well it did, but now it doesn't.
Here is a diagram of a traditional game development process:

Nice and straight-forward. The "Alpha" is the bit before the "Beta", so we can intuitively expect the game to be a bit more crashy and incomplete but still very much towards the end of development – so you'd be getting a really decent feel for the game at this point regardless of whether or not some of the textures and models aren't quite finished.
Let's contrast that to something that's Alpha-Funded:

Hmm… Yes. See, there's the problem. If all of that red stuff is called "Alpha", then there's absolutely no way to know intuitively whether that means the game is barely functional, practically complete, or at any point in-between. In other words, if you're having to explain why your alpha is so considerably less developed than somebody else's alpha, that's a good sign that the word "Alpha" is woefully insufficient for your purposes.
You may as well just swap the word "Alpha" for "Fundamentally broken in many key areas", although while it gets points for clarity I agree that it's not quite so marketable.
For me, Alpha-Funded games should use the term "pre-Alpha" for significantly longer and keep the term "Alpha" for that bit towards the end which then correlates to the equivalent builds in traditionally developed games. Keep these terms consistent in order to retain any meaning to them what-so-ever.
Because if we break down a game's development into its component pieces, what we end up with is something like this: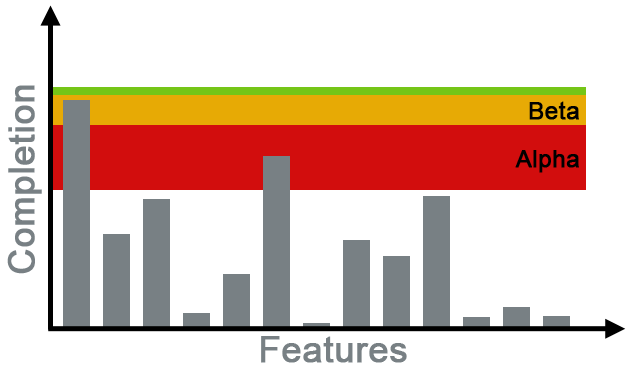 In other words, certain features of your game (for example combat, NPC behaviours, whatever) may be at an alpha-level before other features, but on the whole the game itself could not be said to be in Alpha, until all of the key features (with a bit of wiggle room) have been fairly well developed.
That makes much more sense, if you ask me.