It was the first program I ever used to do pixel animation, and it will probably be the last. Along the way, I've relied on it for GBA and DS game development and even a couple of times for the odd thing on console titles.
So there's no onion-skinning, no layers, a 256 colour limit, a fixed resolution of 320×200 which means it also goes stretched and blurry on LCD monitors fullscreen, and there's no way to spit out cropped sprites or automatically preview tiling. Oh, and you'll have to adapt to non-standard hotkeys – 'u' to undo, for instance. Oh, and there's only one undo, no history.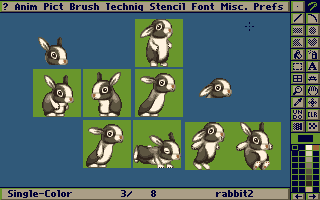 And the interface changes colour depending on your palette 🙂
It also only supports the image formats PCX and LBM (the latter being essentially useless nowadays), and its animation format ANM is pretty much only readable by DPAnim itself (although some clever chap who is evidently more talented at programming than choosing nice website colours, wrote a handy Windows Media Player codec).
Frankly, there's a million reasons why I should really be using something a bit more recent and versatile. I've tried some, I really have, but something just doesn't feel… right about them. A friend of mine at work once raved about Pro Motion saying, "but look! It uses the same hotkeys as DPaint! It's basically DPaint for Windows!", which it is on paper. But something got lost in translation – the migration to a Windows interface destroyed the magic somehow. The palette, the buttons, everything was too small – it felt clumsy.
To be fair to it, it's on version 6 now, so it's probably significantly better. But I'm not about to shell out cold hard cash for something I previously hated, when I've already paid for DPaint and I love it (along with its cute and chunky spiral-bound manual).
So it appears that I don't really have any concrete reasons why I love DPaint so much. Maybe it's just like an old friend who's been around since the start from which I'm reluctant to part. No, I don't think so – or at least that's just part of it. When DPaint came out it was great (although even back then it was criticised for not having onion-skinning, unlike Autodesk Animator), and, well here's the thing: low-res pixel art hasn't changed since then. What was good for me in 1990 is still good for me today.
I wish there was some way I could end this post with a link to an abandonware site where you could download this gem and spread the love but, alas, it being owned by Electronic Arts means it'll probably never be available legitimately since it's still copyright.
But if you have got hold of it somehow – like discovered the floppy disks tucked in an old box in the attic – then I'll say this: Run it with DosBox and D-Fend Reloaded, whack the pixel scale up to 3x (depending on your resolution) and display it in windowed mode. It's perfect, and it solves that pesky aspect ratio issue.