Short post this, because I didn't actually get to see much (at all) of the show given that we had a booth there ourselves in the Rezzed section and having that sort of occupies all of your time. I did, however, want to mention one or two disappointments. For more in-depth disappointment, I'd recommend Rob Fearon's piece.
Also forgive me for focusing on the bad stuff – obviously there were lots of highlights, showing people our game, chatting about it, cool people all round, love you all etc. I just wanted to get this out of my system.
Now I know that EGX (as opposed to its sister show, Rezzed) is all about the AAA stuff and that the Rezzed section is really just a way for us small games to get in the faces of that more mainstream crowd, but I kind of feel that if you're going to integrate things at all, you should go all-in. But there were devs there who'd paid for four screens but were allotted only three exhibitor passes – which can make things awkward if someone is ill or injured (staffing these booths is way more taxing than you might think, and someone there is bound to be contagious with something), and having the computers directly underneath the monitors in a locked cabinet isn't terribly friendly to either the extremely tall, or physically disabled: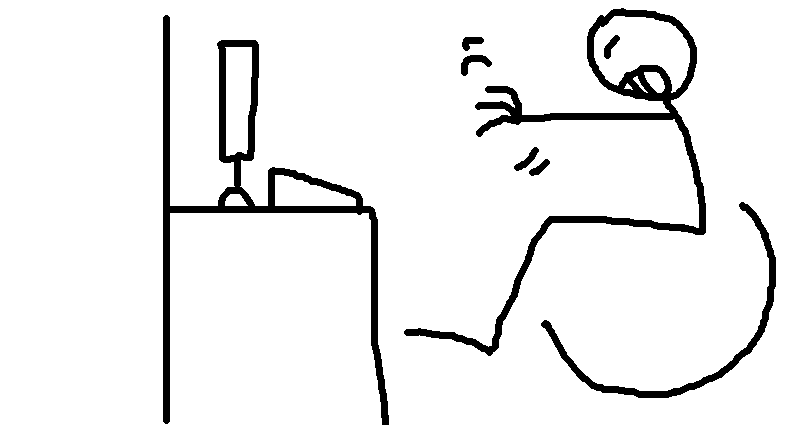 It just all felt a little tucked away at the periphery – most of the section was walled off in a, "WARNING: THESE ARE NOT AAA GAMES" way.
At Rezzed proper, Rezzed sessions are queued for and in nice big separate rooms with comfy seats and prominent announcements. They're a highlight. A feature. Now I appreciate that at EGX these sessions were new and, possibly, even fairly last-minute additions, but rather than be in a separate area they were instead just a little area set aside on the show floor with a hand-written sign with the lineup written on it right next to some extremely loud AAA booths blaring out bollocks such that you were buggered to hear anything which was said despite the best efforts of the chap in charge of the sound (shout-out to him, flupping hard job he had there). It's the sort of space that people wander past, idly glance at, and wander off. No-one is queuing for this because it just doesn't look like the sort of thing you're expected to queue for. Many people treated it like a space to wander into to sit and eat a sandwich and chat.
I don't like having a go at this because I'm almost certain that everyone involved in the Rezzed section did absolutely the best they could under the circumstances. The Rezzed sessions themselves were terrific to watch and a pleasure to be involved with. But I was left with the suspicion that it was all a little ultimately pointless. These sessions weren't filmed, for example – I mean why would you want poxy Rezzed sessions cluttering up the EGX youtube account? No-one's here to see rubbishy indie stuff, right? It's all about the AAA and the main EGX stuff. So why bother having it at all? Maybe in the future we should just stick to Rezzed proper, where we belong.